Silvano Apartments Vlasici
Silvano Apartments are located in Vlasici village on Pag Island. Vlasici village is located 17 kilometers from the town of Pag and 40 kilometers from city of Zadar.
House is located 20 meters from the sea on the rock surface with access to the sea. Guests are provided with a boat dock in front of the house. . Parking for guests is located next to the house.
Distance from the main town sandy beach is 150 meters of straight line. Shared barbecue is available to all guests.
Vlašići, Island of Pag
Vlašići is a small vineyard tradition locality situated in the south of the north Dalmation island of Pag. The locality emerged in a low cove that going inward changes into vineyards and here you will be offered domestic quality wine.
The locality is calm and adequate for a peaceful family vacation, and the sandy and sunny beaches are a guarantee for safe children's games and bathing.
Vlašići, Island of Pag
Contact & How to reach us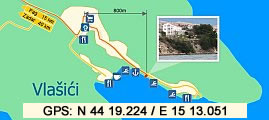 Šabalić Family
Danijela and Silvano Šabalić
Put Mrta 34, Vlasici
23252 Povljana
Island of Pag, Croatia
+49 (0)721-9665569 (D)
+49 (0)176-87916704 (D)
+385 (0)23-616-158 (HR)
+385 (0)99-6803-994 (HR)
Photo Gallery